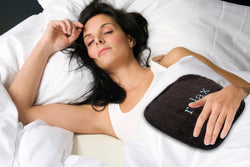 Love Warming Pillow
Designer warm up pillows! Soft, cozy fabric and cheerful affirmations ease away stress and tension:  "Relax", "Love" and "Joy" embroidery.
Moist heat, aromatherapy and acupressure make these designer heat wraps the perfect natural alternative for the relief of aches, pain and stress. Handy size for travel. An easy to use hot water bottle alternative.
Contains our signature anti-stress aromatherapy blend. Warm in microwave 2 -3 minutes, or cool in freezer.
Product size: 9″ X 9″   Colour Chocolate
Product weight: 2.1 lbs
Made in Canada