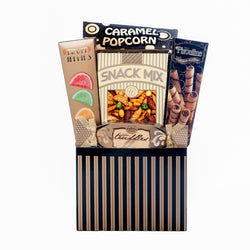 The Perfect Pause
This gift basket will delight anyone craving a tasty break in their day. Perfect for your friends and family or to have a moment for yourself. The perfect pause is to snack now! 
Truffettes de France Truffles Firecracker Gold, Comfort Collection Caramel Popcorn, Comfort Collection Snack Mix, Pizazz Fruit Jellies Black, Pirouline Chocolate Cream Filled Wafers Duo Pack.
Special Mention: in case we need to substitute a product, it will always be  with equal or better value.