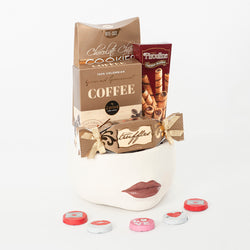 Red Lips with Coffee
Get inspired by the red lips and take a break from the regular routines with the lovely Coffee gourmet and tasty sweets.
Give to your favourite person an unforgettable accent with this stunning Red Lips container. Crafted out of cement, this ivory base features a luscious pair of three-dimensional, red pouty lips and make a impression that last.
Special Mention: in case we need to substitute a product, it will always be with equal or better value.