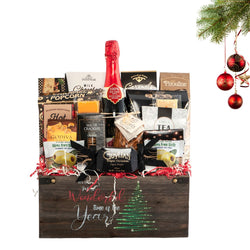 It's the Most Wonderful Time of the Year!
Christmas celebration is in place at the moment this succulent, classic and impressive gift basket arrives to someone's home or office. Send your best wishes now because it's the most wonderful time of the year!

This Wonderful gift basket holds caramel popcorn, cookies chocolate chips, sparkling wine, cocoa mix, Belgian chocolates, English tea, pirouline, biscotti, pretzels.
This generous gift basket also includes water crackers, truffles, dark choco almonds, choco coffee beans, choco mealtways, cheeses & olives.
Special Mention: in case we need to substitute a product, it will always be with equal or better value.