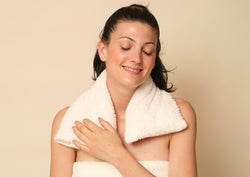 Extra Long- Spa Wrap
Extra long size for warming up neck, shoulders and backs. A popular wrap used in spas and at home. Feel the rejuvenating effects when heated. Easy to use.
The signature anti-stress aromatherapy blend (lavender, peppermint, eucalyptus, rosemary and cloves) helps with relaxation and stress relief. Cozy washable covers are available in a variety of elegant washable covers.
Dimensions: 23″ X 7″
Product weight: 2.85 lbs
Made in Canada