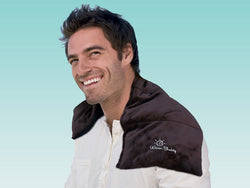 The Sports Therapy Wrap
The heat wrap/heat pack used by therapists and athletes. This is a great gift for men. Extra large size, weight and penetrating moist heat provides comfort for those who suffer with back and shoulder pain. Infused with our signature anti-stress aromatherapy blend of lavender, peppermint, eucalyptus, rosemary and cloves.
The Sport Therapy Wrap comes with an adjustable belt to hold the wrap firmly in place. Extra long heat holding – 1 hour or longer. Contains our anti-stress blend. Use warm or cold to assist with the relief of aches, pains and stress. An excellent stress relieving gift. The cover comes in black velvet with an embroidered Warm Buddy logo.
Recent studies have found that heat wrap therapy proved to be more effective at treating lower back pain than oral pain medications such as ibuprofen and acetaminophen.